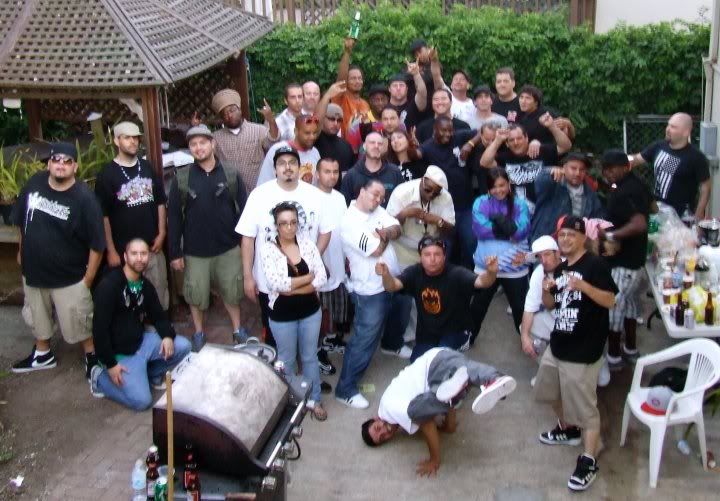 Ahhhh yeah it's about that time another edition of 'Coo Pics" why???? Cause it's a "Coo Pic!" This weeks Coo Pic is dedicated to my Bay Area ( San Francisco/Oakland CA.) Hip-Hop famz. Over the weekend me and some Northstar representative's shot out to Oakland CA. to my mans and demz Crayone from the TWS crew for a Hip-Hop building cypher.. Not only was it a nice vibe, it was a proper check in for the fams (Northstar) so much love it wasn't even funny! I have been a fan of Bay Area Hip-Hop ever sense I could remember. So for me to get a personal invitation to attend along with my NS famz was a blessing and an honor. So of course we were going to attend and make it be known, when it comes to this Hip-Hop sh*t N.S. takes it real serious and is ready to build on any notice on this Hip-Hop Sh*t.
The dope thing about this cypher was more then half the people in the house were writer's, who I didn't even know personally. But once the building started and the Hip-Hop knowledge started to really pop off cats were bound to connect.. It really amazes me how Hip-Hop brings people together and it seems if you really study this Hip-Hop and believe in this Hip-Hop how much closer it brings you to like minded people, creating new paths and more Hip-Hop missions. I would like to thank my man Crayone for the invite and introducing Northstar to some of his peoples that hold Bay Area graffiti down, as well as all them elders in the house who made me and my famz feel at home.
Salute to the TWS/MPC Bay Area famz,
-P
B-Boys & B-Girls In the photo: Kufu 1, BASone, Young Prize (Northstar Wahset Oakland CA. Chapter), Planet Rock & Drasar Monumental (Northstar Family/N.S. Warparty Chapter), Riff-Raff (Northstar Sacramento Chapter) Man-E (Northstar War Party), Zulu Roach ( Northstar Pillers San Jose CA.) Brotha State Of Mind, ChearsHTK, InkOTC, Verb, Cloud9, Torch, Angel, Chris-O, Koo C. & Orukusaki (UZN All Tribes SF Chap) SundanceAS, PicassoTWS, Sno, John, Lowell, K2-O.G. Lords, Sno , Jim Prigoff and his wife Arlene, , Fats, KodeHTK, RaevynTWS and his wife Fannie, Kasper, DareWCF, PicaAS, NateMPC, PhreshMDH/AS, Pete Allen, Ray Stevens, ShoeAS/KM, Bleek, Joseph Wright, Osare the Nigerian.
*Photo courtesy of A. Angel*