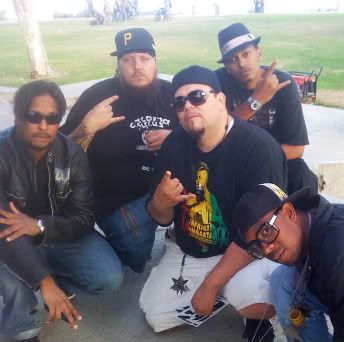 Sup all my Hip-Hop junkies your manz "P" is back on the saddle. By now you must have figured it out that I went on a Hip-Hop mission. (lack of updates) but now I'm back and ready to fill you in.. Earlier in the month I went out to San Diego to pay my respect to the San Diego Zulu Nation 4 year Anniversary, and what it anniversary and a Hip-Hop mission it was. Before I got up to San Diego I ended up taking a grimy ass Grayhound bus to Santa Rosa, had my NS brotha Sha One scoop me up, check me in, and then proceeded to Oakland CA. to meet up with more NS famz ( Refa & Kufu) scoop them up and make a straight shot to Diego from there.
With the sound system pumped to 10, a full tank of gas, some snacks, and a bunch of jive ass Zeez. We proceeded to leave the bay area at 11PM, to not make it to San Diego until 8AM talk about savage! (which i drove the whole way down) Was it worth it?!?!? Oh hell yeah, the San Diego famz is nothing but love.. The whole entire weekend brought the Hip-Hop Morale to the highest. I even got a opportunity to see my brothers co rock a production, which was a a dope moment for me. I have known these cats for sometime now and I hardly get to build with them let alone get a chance to be able to hang with them in their environment and watch them lay the smash down.. (NS Production) So for me to be around my NS family and Hip-Hop all weekend was most definitely the biznass.
For those who have not attended a San Diego Zulu Nation Anniversary you are truly missing out. These brothers show nothing but love and hospitality. My mans Daze Roc is a beast for letting so many people crash out at his crib, and Nick Nayme is the man for backing in his parents RV in front of the house so family have a place to crash.. Now if that ain't love, then what is???? The San Diego famz truly is pushing the family first ethic to the highest, and all i can say is much love and respect for all that you do. Then you add all these battles, free jams, Hip-Hop cyphers, and excellent weather to the fold you nothing but a fun Zulu Anniversary. I attached a few photos for you to check on as well as the official San Diego 4 Year Anniversary Mix Tape for you to pump in your jeep.
Big ups to Daze Roc, Izzy, Nick Nayme, Bori, Chibi, Rock Nick, B-girl Hectik, Noise, Mane One, Grim Rock, Lady Daze, Nikko, Sha One, Hagee, Kufu, Refa, Skizz, Foots, Gobz, brotha Mel, WST Famz, Writters Block, Kutt Father, Last Man, Seven, S.O.J. , and Zulu Manny..
See you all next year Ahki Peace,
-P
Download UZN SD Anniversary Mixtape Here:
http://rapidshare.com/files/406006125/UZN-Nick_Nayme_SD_4YR_ANN.zip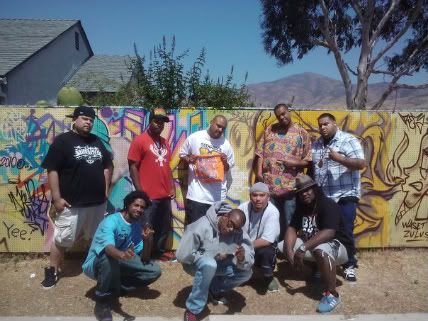 "P", Refa 1, Sha One, Kufu 1, Bori, Foots, Gobz, Grim Rock, and the hommie Mel.
Family First Photo Shot
Refa 1 laying final touches down on his burner..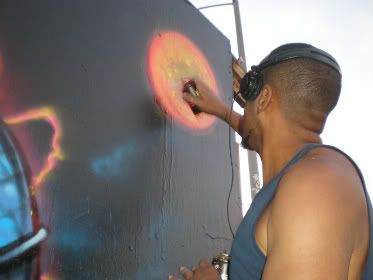 Kufu 1 truly living up to his name.."Kufu The God One Sun"
Click picture to view masterpiece in detail.
As a added bonus here is a clip of my brotha B-Boy Foots freestylin at the Writer's Blok!